This service is a quick and easy way for customers using www.scbsonline.com to register/change their bank account no. for SIPS (SCB Internet Payment System) or ATS (Automatic Transfer System) during online service hours from 08:00 to 16:30.


Step 1: Login to "SCB Easy Net", Click main menu "Investment" and sub menu "Easy stock" as shown below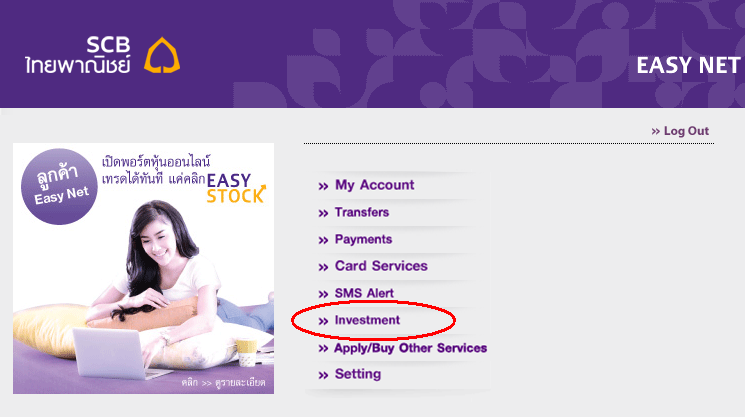 Step 2: Click "Edit Profile" under menu "Easy Stock".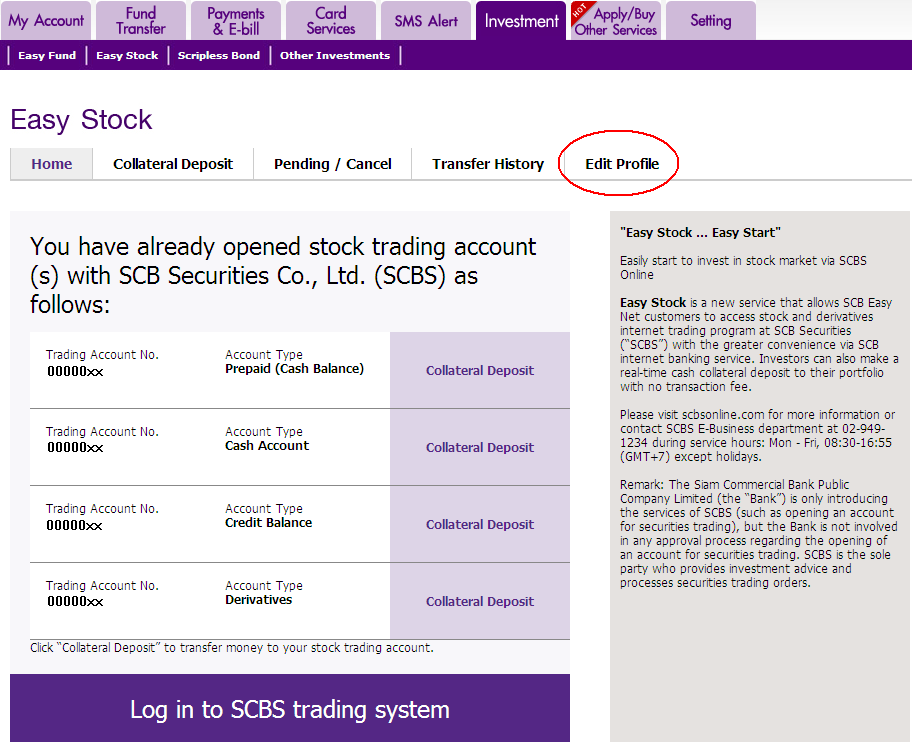 Step 3: Under the menu "Bank account nunbers for SIPS, ATS, E-dividend service", click the link "Change your existing account number" or "Apply for the service click here".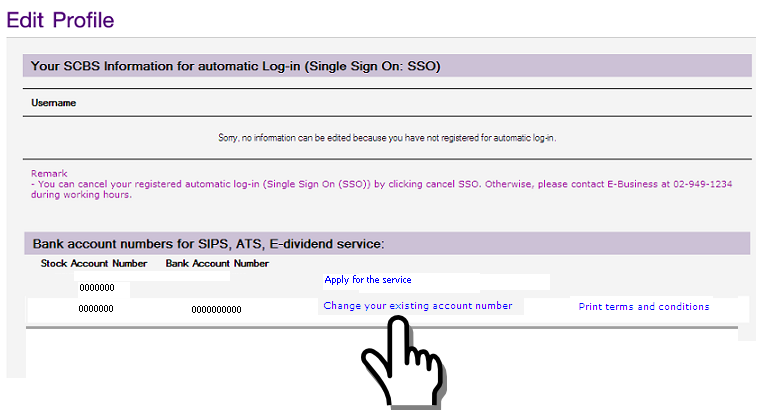 Step 4: Please read the terms and conditions carefully, then click the check box below and press "OK" to continue.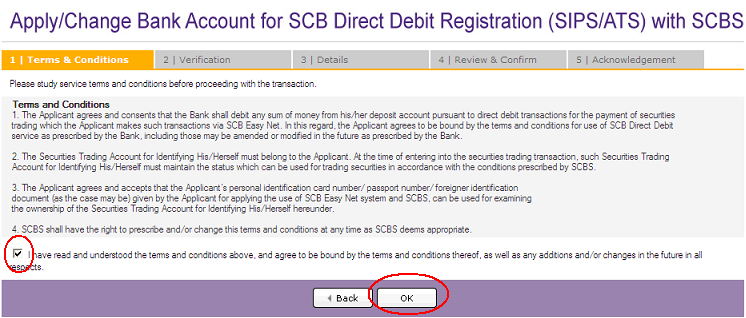 Step 5: Select the phone number you want the OTP (One Time Password) to be sent for verification, then complete the application form with the OTP you have received and press "OK" to proceed.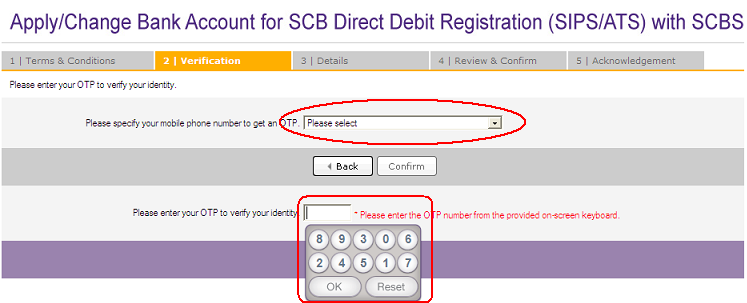 Step 6: Select the bank account number you want to apply for SIPS, ATS and e-Dividend then click "Confirm".

Step 7: Please review the information you have completed before clicking the check box below then press "Confirm".

Step 8:The screen will inform you that you have already completed your request for SIPS, ATS and e-Dividend. SCBS will subsequently approve the request in 2 business days.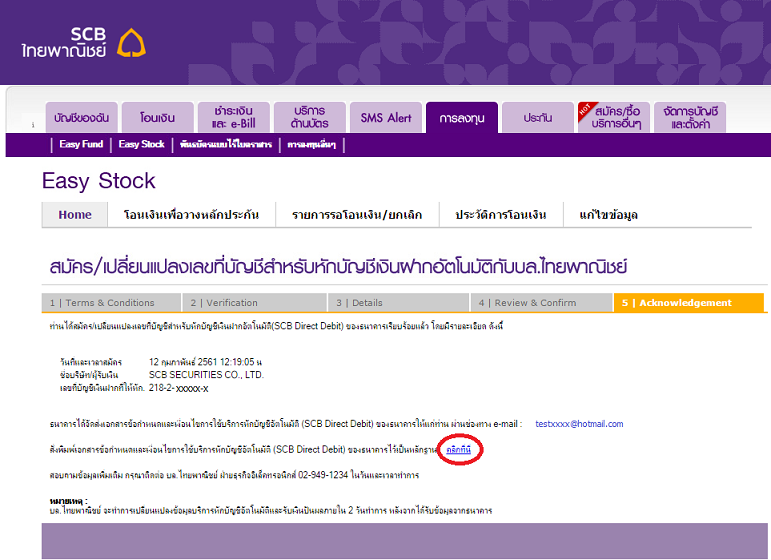 Step 9: You may save a copy of the terms and conditions for SCB Direct Debit by pressing "click here" (as shown in the image in Step 8 above). The copy will look like this: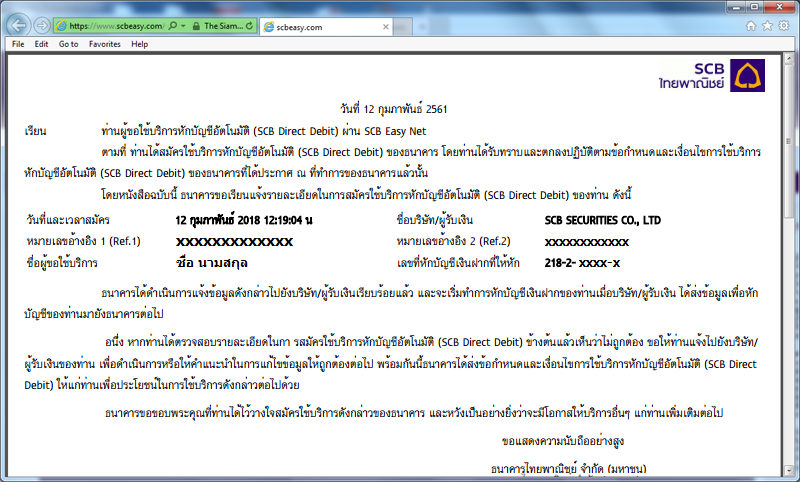 Should you have any inquiries, please contact the e-Business Department (SCBS) at tel.: +662-949-1234, or email: scbsonline@scb.co.th during our business hours (Monday – Friday, 08:30 – 17:30)


Disclaimer:
1. SCBS will proceed to change your data record within 2 business days after receiving the change request of your SCB Direct Debit and e-Dividend Account No. from SCB.
2. The bank account type must be savings or current account only; fixed, joint, or online accounts are not eligible. The name on the bank savings/current account has to be the same as that on the stock account.
3. In case you cannot find the bank account no. that you would like to apply for the SCB Direct Debit, you can simply add the bank account no. on the main menu "My Page" under the sub-menu "Auto-added SCB Accounts"
4. ATS, or Automatic Transfer System, is used for Cash Account. The system will automatically debit (withdraw) the net paid amount from your ATS bank account on the third business day (T+2) after the trading date (T).
5. SIPS, or SCB Internet Payment System, is used for Cash Balance (Prepaid). You may make real-time money transfers on
www.scbsonline.com
under the menu SIPS Deposit/SIPS Withdraw.
6. e-Dividend service makes it more convenient for you to receive dividends/interests by having your rights transferred directly to your bank savings account in lieu of receiving checks.